In the telecommunications industry, AI provides numerous opportunities. Firms can seize these chances and provide excellent services to clients with an effective AI deployment. 
AI has the potential to significantly improve parameters of quality. From USD 773 million in 2019, the global AI in the Telecommunication market is expected to grow at a CAGR of 49.8% from 2021 to 2026, reaching USD 13450 million, according to prnewswire. Thus, it is evident that by using AI, Telecom companies can reach greater heights.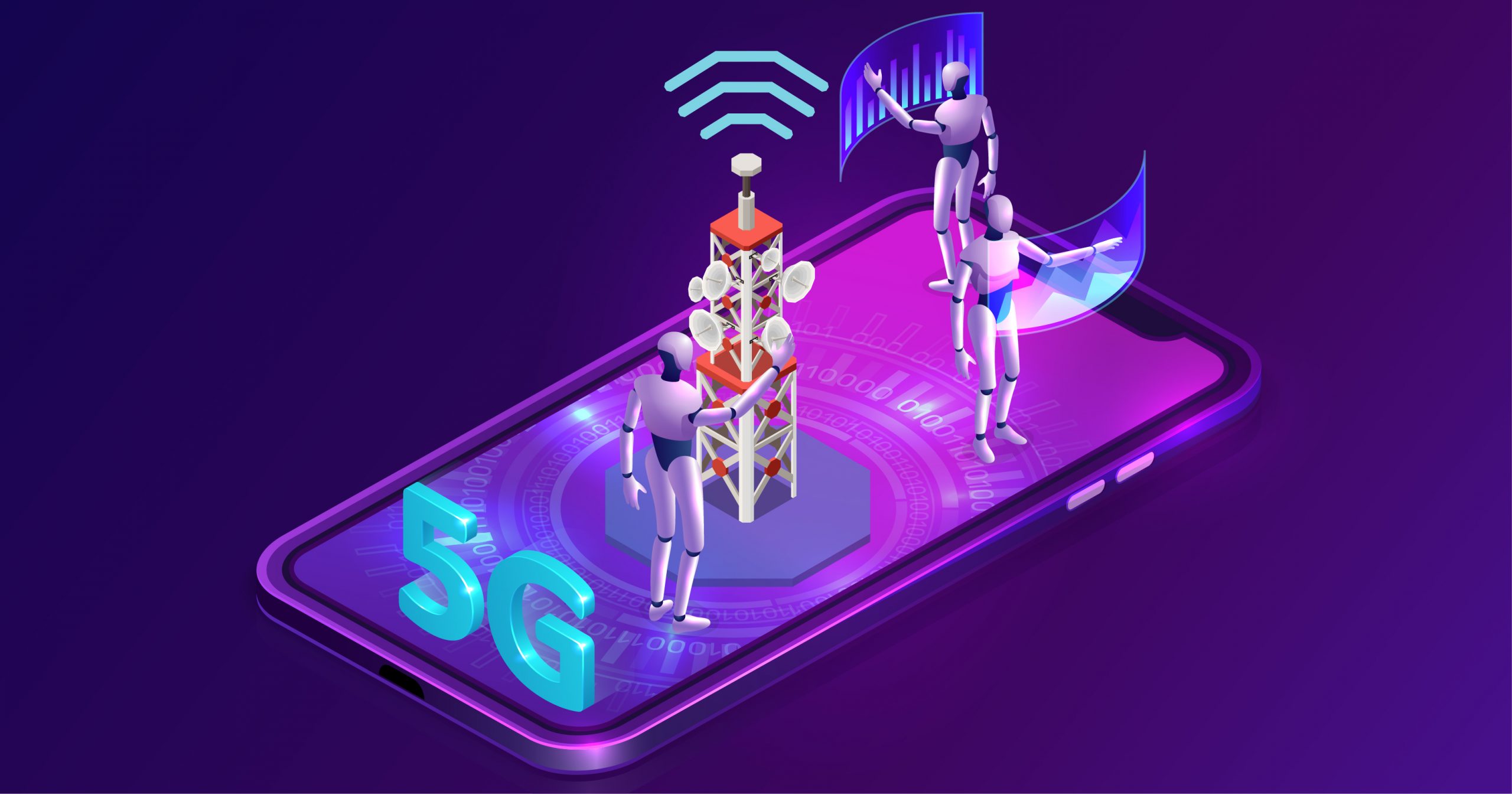 Here are a few examples of how AI has impacted Telecom firms in different ways.
Increases Quality of Service
The telecommunications industry could use machine learning and artificial intelligence systems to screen millions of Call Detail Records in real-time, spot patterns that may indicate problems, and use predictive maintenance techniques to reduce dropped calls, poor quality, and other issues. These strategies can be applied to a variety of additional issues that may interfere with customer satisfaction.
GeakMinds helped a Fortune 500 Company through Network Capacity Planning. The client's challenge was to manage thousands of servers carrying internet traffic and make sure that there is no overutilization and traffic loss of servers.
The issue was solved by creating a capacity planning approach that uses Machine Learning models to forecast utilization. This aided the client in making optimum use of the servers and reducing CapEx thus ensuring good quality of service.
Increases Customer Satisfaction
Apart from providing quality services and being available 24 hours a day, keeping a high level of customer satisfaction is tough for telecom firms all over the world. In the telecom sector, there are a variety of AI possibilities that can help maintain a high level of client satisfaction and, as a result, enhance profit production.
Take this example of Verizon. Verizon's strategy was transitioning 17,000 customer support professionals to a remote work model while maintaining physical retail locations. Staff at its stores use AI-enabled technologies to assist them to operate a touchless sales environment, ensuring worker safety while maintaining a high level of consumer happiness.
Incorporating AI is not intended to replace human workers. Instead, Verizon encourages its employees to think of AI as a tool that allows them to give more innovative, broad-based solutions to the problems they confront by removing monotonous tasks from their job descriptions.
Increases productivity
Telecom companies face a difficult task in managing complexity in order to provide the best client experience while remaining cost-effective and efficient. Nokia is tackling this issue with its new digital services, which employ artificial intelligence (AI) and machine learning to minimize network maintenance time and effort while guaranteeing that engineers have access to the most up-to-date network information and skills.
Take a real-time example. Nokia and Vodafone introduced a jointly developed machine learning product in 2021, which operates on Google Cloud that quickly detects and resolves network anomalies before they affect Vodafone customers. The product instantly detects and resolves abnormalities that can affect customer service quality, such as mobile site congestion and interference, as well as unexpected latency. The Anomaly Detection Service is expected to detect and address roughly 80% of Vodafone's anomalous mobile network faults and capacity demands automatically.
Fraud Detection
Machine learning techniques aid telecom network engineers in detecting instances of unauthorized access, and false caller profiles. To accomplish this, the algorithms track the activity of CSPs' global telecom networks. As a result, network traffic on these networks is carefully monitored. 
Pattern recognition skills of AI algorithms come into play once more, allowing network administrators to spot potentially problematic circumstances such as many calls from a false number or blank calls being made repeatedly from suspect sources. Various frauds affecting Telecom include Scam Calls, Mobile Money Fraud, SMS Fraud, Subscription Fraud, Spoofing, and so on. 
Vodafone's partnership with a data science-based firm, which analyses the telecom giant's network traffic for intelligent, data-driven fraud management, is one of the notable examples of telecom corporations adopting data analytics for fraud detection and prevention.
Enhances staff utilization and reduces the time
Take the real-time example of a company discussed in Mckinsey. 
One telco with thousands of call center agents developed core AI models for forecasting and schedule optimization, with the resulting dashboards enabling a 10 to 20% reduction in overtime costs and more efficient staff utilization, as well as improved customer experience. Furthermore, the time required by workforce management to manage forecasting and scheduling was cut in half, and the company saw a 30% increase in flexibility in worker allocations across locations and job types thanks to centralized scheduling that spans multiple business units.
Conclusion
AI has allowed the telecom industry to extract insights from enormous data sets, making it easier to address issues, run daily operations more efficiently, give better customer service and satisfaction, and a lot more. Telecoms can extract significant business insights from this data using AI and machine learning, allowing them to make faster and better business choices. Hereby, the Telecom sector serves as an excellent example of how AI and machine learning is necessary for each company's survival and capability to gain a competitive edge.