In this new age, advancements in technology are happening every day and are affecting almost every industry. While it may not be apparent to many consumers, Artificial Intelligence is slowly finding its way into the retail industry. Traditional retailers now have a fighting chance against big-name retailers such as Amazon and Walmart. As a result, many companies have decided to start investing in AI, hoping for new, innovative methods to provide customers with the best possible experience. According to a new Gartner, Inc. forecast, global artificial intelligence (AI) software revenue will total $62.5 billion in 2022, a 21.3 percent increase from 2021.
To compete today, retailers must respond to customers in ways never seen before, all while reducing inefficiencies in their operations. You can obtain the data, but making sense of it all needs some considerable intelligence. It's all about turning data into insights, which guide actions that improve business results. The use of AI in retail is critical for providing these insights. For retailers, this means providing the best customer experiences, witnessing revenue growth, rapid innovation, and smart operations—all of which help them stand out in the competition.
Artificial intelligence provides retailers with many different opportunities to understand their customers, interact with them in unique ways, and achieve operational excellence. Here are some of the ways by which retailers can use AI.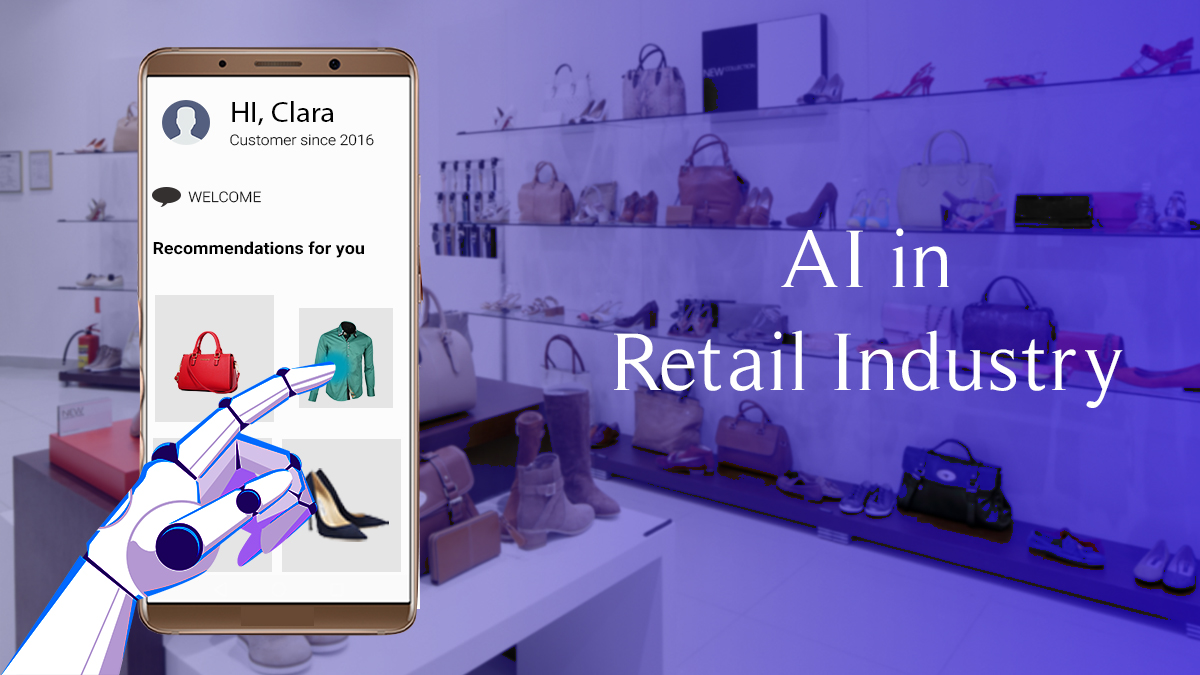 Automate repetitive tasks
Humans are prone to making mistakes. By replacing repetitive tasks with AI, human errors are minimized, making the process more efficient. This also allows employees to concentrate on more important tasks that require human monitoring. AI can help bring down shipping and production costs by using algorithms to figure out the best approach for every situation.
Personalized customer service
Whether it's a local boutique or a worldwide supermarket, businesses strive to deliver convenient, personalized, and delightful shopping experiences. Customers should be able to find what they're looking for quickly, get assistance when needed, and check out easily. These activities are streamlined by AI to help generate more fulfilling client experiences.
AI will automatically record, store, and organize consumers' past purchases and search habits, then create a personalized marketing strategy for each customer. This creates a unique experience where customers will be able to find exactly what they are looking for and also things that they might like to buy. According to the Pareto principle, 80% of profits come from 20% of existing customers. With such a personalized and easy shopping experience, customers are bound to return, happy each time they leave.
Robot assistants
Offline stores can also benefit from AI with AI-enabled robots. This allows consumers to ask the robot any sales-related questions without the hesitation involved with asking human salespeople. With knowledge of customers' purchasing patterns and inventory knowledge, the robots can guide customers to where they need to go and can provide them with suggestions with items they might be interested in (much like Amazon's "People who bought this also viewed…").
Demand Forecasting and Merchandising
The more you know about client behavior and trends, the more you'll be able to meet demand and deliver the greatest items imaginably. Retailers may use AI to improve demand forecasting, price decisions, and product placement. As a result, customers have access to the appropriate products, at the right time, in the right location. Predictive analytics can assist you in ordering the correct quantity of inventory so that stores do not have too much or too little. Data from online channels can also be tracked by AI, allowing for better e-commerce initiatives.
Virtual Dressing Rooms
Standing in line to go into a dressing room, then trying on every piece of clothes – this is an aspect of the shopping experience that not everyone enjoys. In the context of the pandemic, the issue stands out even more.
People don't have to leave their houses to select the right item or outfit thanks to virtual fitting rooms. The item is placed on the customer's image by AI technology to obtain a better grasp of the size, style, and color.
Mood tracking
Another essential aspect of cameras strategically positioned throughout your store will help in mood tracking. Workers at the store can't keep track of every customer, but AI systems can. When your employees receive a notification about an upset customer, they can approach them right away. This innovation increases customer happiness and grows your devoted audience more quickly than traditional techniques.
These are just a few ways AI can transform the retail industry. If companies want to succeed in today's digital age, they must harness the power of artificial intelligence.